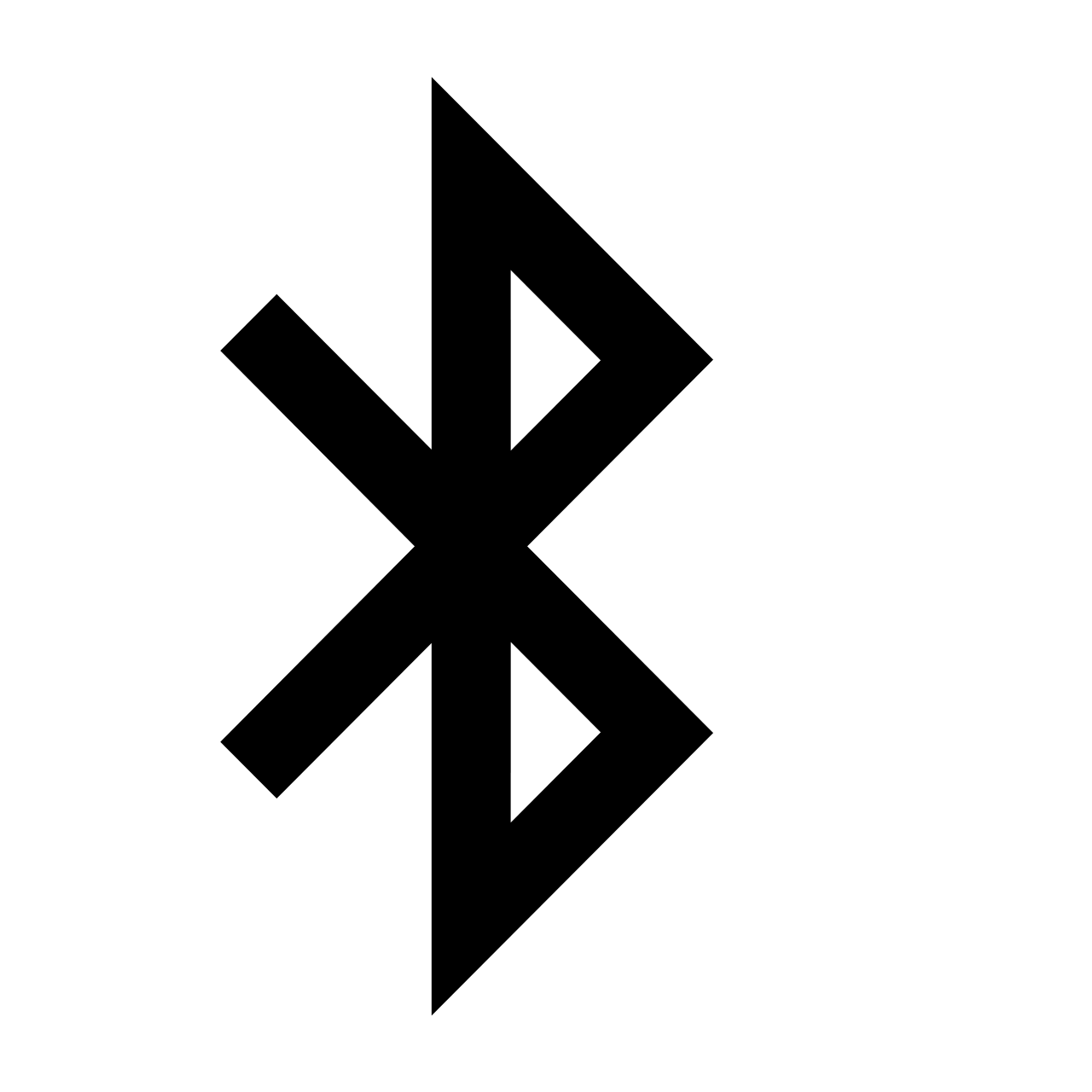 UNRIVALLED MICROPHONE SYSTEM CONTROLLABLE NOISE CANCELLING BATTERY LIFE UP TO 20 HOURS Overview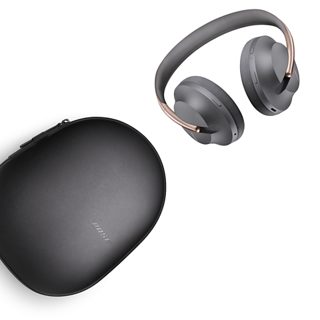 New limited colour.
Unlimited music.
Eclipse is the new limited colour for our most advanced headphones, Bose Headphones 700. But there's more to it than the colour. Eclipse is also a bundle pack, with a charging case providing up to 40 additional hours of on-the-go charge to your Headphones 700. Your music sounds better than ever, for a longer time than ever.
Augmented headphones. Now a reality.
Bose Noise Cancelling Headphones 700 deliver everything you'd expect—and things you'd never have imagined possible. Think of them as smart headphones that let you keep your head up to the world with easy access to voice assistants. Or confidently take a call with the most powerful microphone system for voice pickup. And then there's Bose AR*, a first-of-its-kind audio augmented reality platform that makes astonishing new audio experiences possible. Now available in limited-edition Eclipse.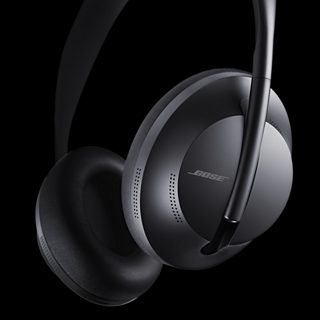 An adaptive mic system for superior voice pickup
Bose Headphones 700 feature an unrivalled four-microphone system that picks up and isolates your voice while cancelling the noise around you. You'll hear and be heard like never before—even in noisy environments.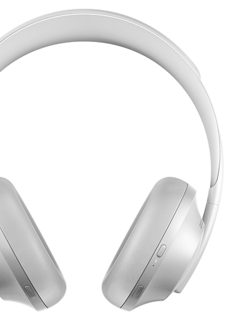 Stainless-steel headband
Streamlined and durable, with an ultra-soft foam underside for lightweight comfort.
Comfortable, angled earcups
Made from synthetic protein leather, they're soft, durable and built for all-day listening.
Virtual voice assistants
Access the Google Assistant at the push of a button.

Our wireless headphones are optimised for the Google Assistant, easily set up via the Bose Music app. To activate your voice assistant, just press a button on the right earcup.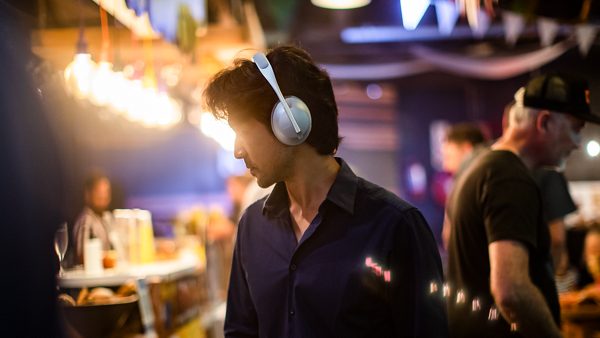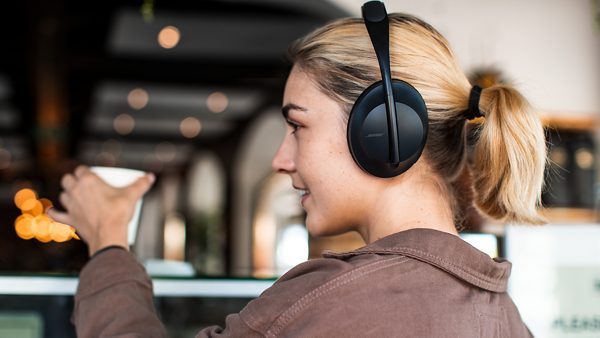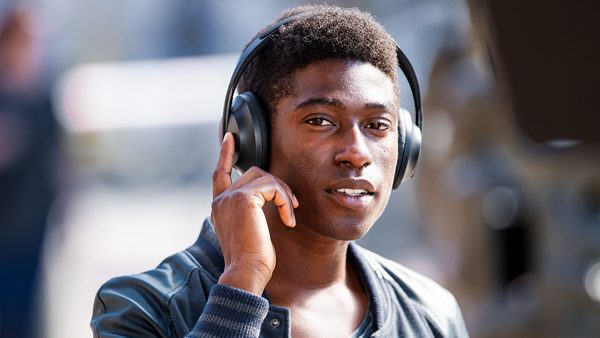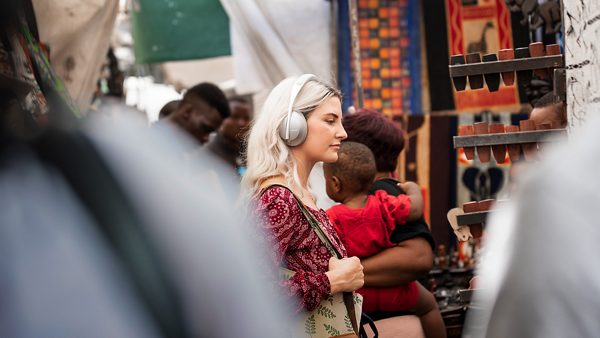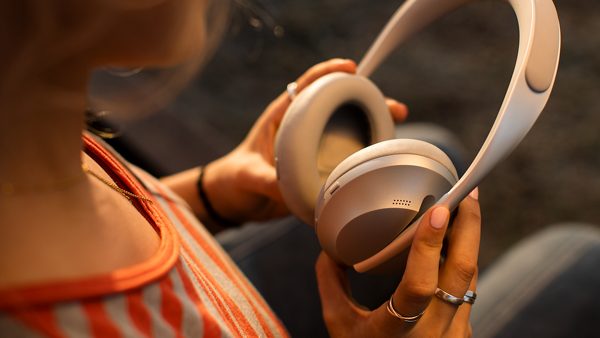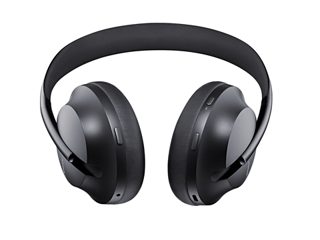 Controllable noise cancellation
Preset levels of noise cancellation, plus Conversation Mode.
Touch controls
Manage tracks, volume and phone calls with intuitive controls on the right earcup.
Hear the world around you. On your terms.
With Bose Headphones 700, we've even improved on what we're most known for. You can now personalise your environment with 11 levels of noise cancellation. As you increase the noise cancellation, you incrementally minimise the distractions you hear in loud places. Or, decrease it to the point where you hear the world as if you weren't wearing active noise cancelling headphones at all.
For quick interruptions, press a button for Conversation Mode to pause the music and let surrounding noise in—perfect to quickly place a coffee order or chat with a colleague.
AUGMENTED REALITY.
FOR YOUR EARS, NOT YOUR EYES.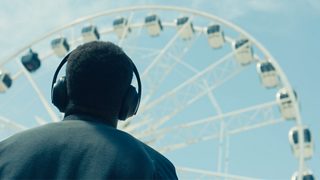 Get the most from your smartphone while it stays in your pocket



Bose AR* is a first-of-its-kind audio augmented reality platform that makes astonishing new audio experiences possible by helping you stay connected to your digital world and stay engaged in the physical world at the same time. Combining the power of wearable audio products, mobile devices and integrated apps, Bose AR unlocks the potential to experience fundamentally new ways to travel, exercise, learn, play and more by augmenting your world with content for your ears instead of your eyes. The features and availability of Bose AR may vary.
So how does Bose AR work?
Bose AR-enabled products have motion sensors embedded inside that can detect your head orientation and body movement while you wear them. Bose AR-enhanced apps can then use this information along with location data from your mobile device to offer you audio content tailored to where you are and what you're doing.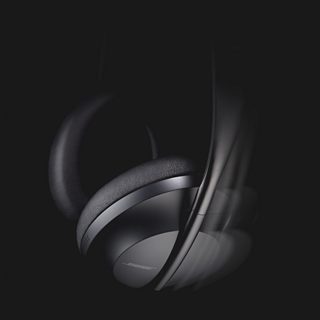 And your music? Beautiful as ever.
Bose Headphones 700 give you two options when it comes to audio EQ: Do nothing and the bass, midrange and treble of whatever you're listening to will be adjusted automatically to make it sound great—or choose "Equaliser" in the settings of the Bose Music app to change the audio levels yourself to however you like them best. Either way, you'll enjoy immersive sound at any volume.
Want to watch TV but not disturb anyone else? Now, with Bose SimpleSync™ technology, you can group your Bose Noise Cancelling Headphones 700 with a Bose Soundbar 500 or 700 for a personal TV listening experience. With independent volume controls, you can lower or mute your soundbar while keeping your headphones as loud as you like.

Meet a whole new breed of headphones
We'd love to hear about your experiences with Bose Headphones 700. Like those easy-to-use touch controls and the custom noise cancellation settings? Enjoy the benefits of Bose AR? Post your photos on Instagram using #BoseHeadphones and tag @Bose to share your story.

* The features and availability of Bose AR may vary.
Specs
Dimensions/weight
Headphones:

20.3 cm H x 16.5 cm W x 5.1 cm D (0.25 kg)

Carrying case:

21.8 cm H x 17.9 cm W x 6.2 cm D (0.18 kg)

Audio cable:

1.06 m

USB cable:

0.5 m
Additional details
Bluetooth® version: Bluetooth 5.0

Bluetooth range: Up to 10 m (33 ft)

Battery charging time: Up to 2.5 hours

Fast charge time: 15 min for 3.5 hours

Battery life: Up to 20 hours

USB-C connection
WHAT'S IN THE BOX
Bose Noise Cancelling Headphones 700

Audio cable

USB charging cable

Carrying case

Quick start guide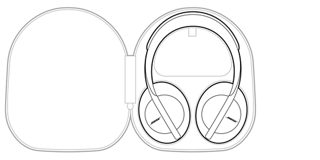 FAQs
What is the difference between Bose Noise Cancelling Headphones 700 and QuietComfort 35 wireless headphones II?
QuietComfort 35 headphones II offer a classic solution for anyone who wants acclaimed noise cancelling technology and volume-optimised audio performance. Bose Noise Cancelling Headphones 700 also deliver on this promise, but feature a brand-new acoustic design to achieve slightly better noise cancelling than QC35 II while also allowing you to transition from full isolation to full transparency. Another key improvement is the adaptive four-microphone system that automatically adapts to your environment to isolate your voice from competing noises so that you can confidently take a call or talk to your voice assistant. And a new touch interface provides intuitive gesture-based controls for managing your content.

What is TriPort acoustic headphone structure?
Proprietary TriPort acoustic headphone structure utilises external ports to vent the earcups and effectively enlarge the acoustic volume, without increasing the size of the earcup. The result is better audio and active noise reduction from smaller, lighter, more comfortable headphones. TriPort acoustic headphone structure is used in all of our consumer headphones and headsets.

How is the total noise cancellation in Bose Noise Cancelling Headphones 700 achieved?
Bose Noise Cancelling Headphones 700 utilise both active and passive noise-reduction technologies. They use a sophisticated proprietary electronics approach to active noise reduction, placing microphones both inside and outside the earcups. The electronics system senses the sound in almost any environment and then measures, compares and reacts—instant by instant—to produce an opposing cancellation signal. The passive noise reduction is achieved by the combination of the acoustic design and materials chosen for the earcups and cushions.

How many microphones do the Bose Noise Cancelling Headphones 700 have?
The Bose Noise Cancelling Headphones 700 are comprised of a new, eight-microphone system. Six microphones are used as part of the noise cancelling technology to manage how much or how little of your surroundings you hear. And two of those microphones combine with two others to deliver unrivalled voice pickup performance.

Can Bose Noise Cancelling Headphones 700 take calls?
Yes. Bose Noise Cancelling Headphones 700 have an adaptive four-microphone system that allows you to use the headphones during calls when connected to any smartphone. In addition to traditional calls, the headphones will work with many apps that use Voice over Internet Protocol (VoIP), such as Skype or FaceTime.

How do I pair Bose Noise Cancelling Headphones 700 with my mobile device?
First, make sure your headphones are turned on with a single press of the upper button on the back of the right earcup. Next, press and hold the power button for three seconds to put the headphones into pairing mode. Please note, if this is your first time connecting the headphones, they will automatically turn on in this pairing mode. Voice prompts will provide you with additional guidance. We recommend that you use the Bose Music app to complete the pairing process. However, you can also use the Bluetooth settings on your device.

Can Bose Noise Cancelling Headphones 700 be simultaneously connected to two mobile devices?
Yes. Multi-point technology allows Bose Headphones 700 to maintain a connection to two devices at the same time—for example, an iPad and a smartphone. So, while you're watching video on the connected iPad, the headphones will automatically pause the video to answer a call from the connected smartphone. When the call is finished, the headphones will swap back to the video on the iPad.

What is the range of Bose Noise Cancelling Headphones 700?
Bose Noise Cancelling Headphones 700 have a range of up to 10 meters (33 ft) from the source device. It is realistic to describe the range as being the room that the user is in and the adjacent room. This range may be reduced by physical obstructions, such as walls and doors, or by interference from other electronic devices. Pops or a crackling noise may be heard if there's interference with the Bluetooth connection. If that happens, move away from wireless routers or microwaves and bring your headphones closer to the Bluetooth device.

How long will the battery stay charged?
Bose Noise Cancelling Headphones 700 use a custom-designed lithium-ion rechargeable battery that provides up to 20 hours of full-featured audio playback.

How do I control volume or manage my content with the Bose Noise Cancelling Headphones 700?
The front half of the right earcup houses our touch interface for basic controls. This includes intuitive gestures like slide up and down for volume control and slide forward and back for track forward/back controls. In addition, a double tap will pause or play your content and also answer or hang up a call.

How do I fold the Bose Noise Cancelling Headphones 700 for storage?
The Bose Noise Cancelling Headphones 700 utilise a hidden pivot design to quickly fold flat with one twist of the earcups, and can be stored neatly in a thin tapered hard case. Inside the case, there is a dedicated cable management compartment with a magnetic cover. While the new design improves ease of use and utility, the thin wedge shape also facilitates storage in tight locations, including seat pockets, backpacks and bags.

Is my mobile device compatible with Bose AR?
Bose AR is currently compatible with iPhone and iPad devices. Bose AR-enhanced apps for Android users are in development. The features and availability of Bose AR may vary.

How do I use my phone's default virtual assistant?
Using the lower button on the back of the right earcup, Bose Headphones 700 give you access to your phone's default virtual assistant, like Siri.

How do I set up the Google Assistant as my preferred voice assistant?
Use the Bose Music app to set up one of our voice assistant partners. It will guide you through the setup process, allowing you to set up an integrated button access feature that will automatically connect to your voice assistant app.

What happens if I'm in a country where the Google Assistant is not yet supported?
The Bose Music app will guide you to select from a given region's available features. For regions where only one is available, the app will automatically display the one you can select. In regions where neither is available, the voice assistant button will default to the native voice assistant available on the mobile device.

What kinds of things can I ask the Google Assistant to do?
To ask the Google Assistant a question, simply press and hold the voice assistant button to talk and release it when you're done with your question. The Google Assistant will read you your notifications, like an audible lock screen. The Google Assistant also provides you with proactive notifications, such as an incoming text message, a meeting reminder and many others. You can get the Google Assistant to expand on these notifications with a single press or reject them with a double press. You can ask for things like:
"Play the news" or "Tell me the latest news."
"Call Thomas."
"Set a timer for 35 minutes."
"Add olive oil to my shopping list."
"Turn the living room lights to turquoise."
"Tell me about my day" and "What can you do?"


Support
Manuals/guides
Owner's guide
Quick start guide